When it comes to kitchen design and decoration, the countertop is often the focal point of the entire space. In addition to being the most noticeable aesthetic choice, your countertops are also the most used area in your kitchen, providing the space where most tasks will be completed.
With so many options available for your countertop, it can be difficult to decide what the best look for your kitchen is. We've collected some of the biggest trends in granite countertops for 2017 to help you get inspired for your kitchen remodel.
A Thinner Profile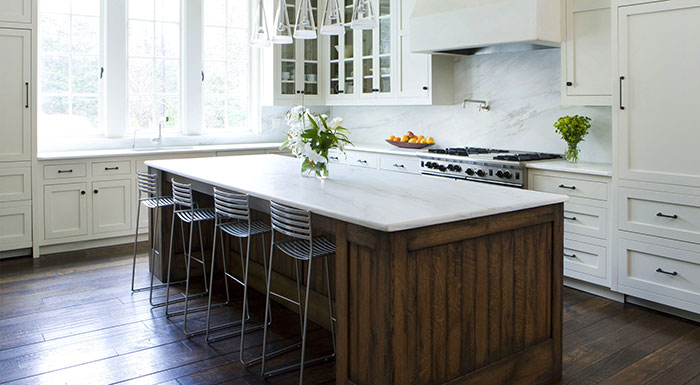 Modern décor is all about low profile design, which has led to an increase in demand for thinner countertops. Countertop thickness has shifted from 3/4 inch – 1 ¼ inch thickness, to a slimmer, more contemporary ½ inch on average.
As sleek design becomes more popular in the kitchen, and throughout the home this shift towards thinner countertops is unsurprising. Low profile countertops can dramatically improve the perceived space of your kitchen, so if you've got a smaller kitchen, slim countertops could be an excellent choice.
Integrated Sink
To add to the slim, low-profile design of a thinner countertop, integrated sinks are all the rage. Putting the sink into the countertop removes any extra height that would normally come from the sink, giving you a single plane for a sleek minimal design.
In addition to being incredibly stylish, the integrated sink serves a utilitarian purpose as well. Since there is no lip on the sink, you can wipe any little leftovers from preparation straight into the sink for easy clean up. It also eliminates any dirty water and gunk building up around your sink, a common issue with a normal sink.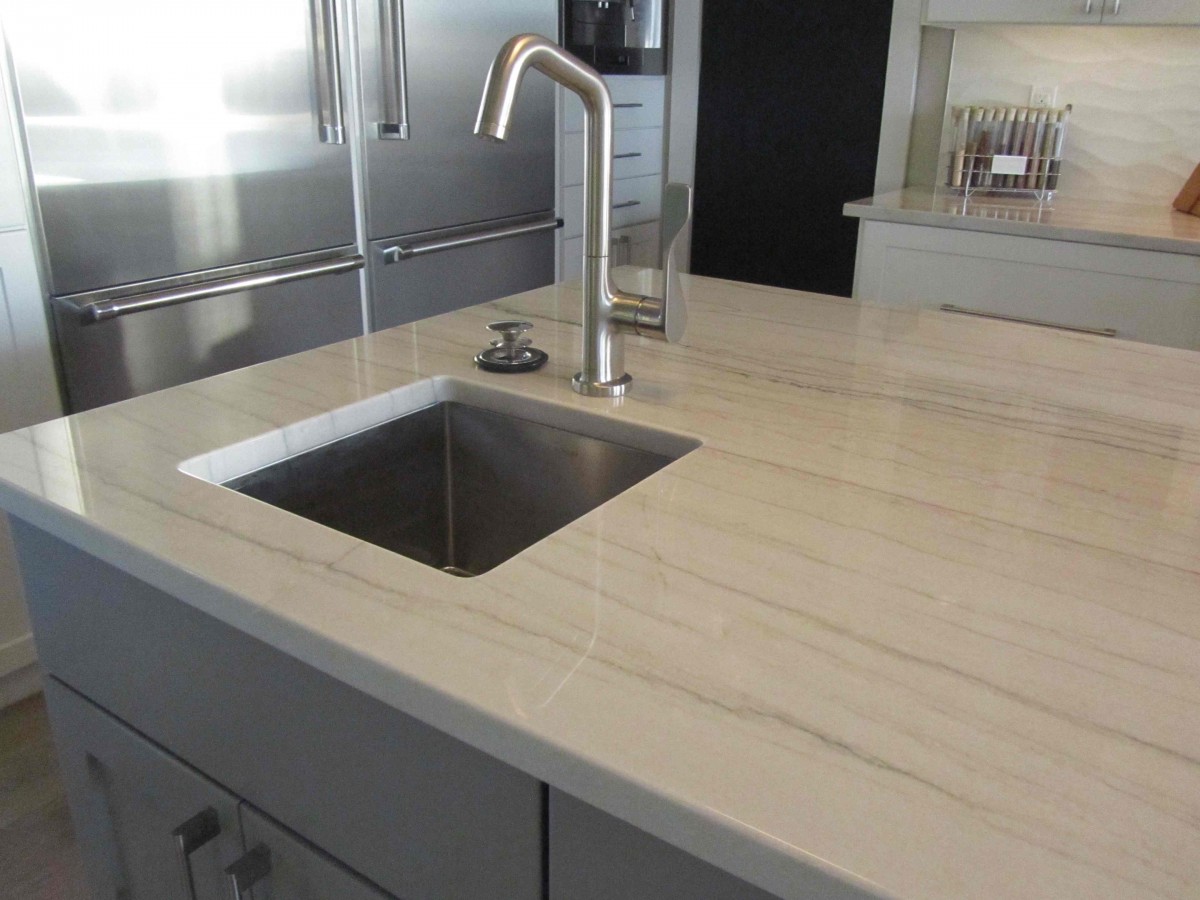 Tiled Backsplash Replaces Matching Stone
In the past, most homeowners would opt for a backsplash that consisted of a 4 inch high piece of stone that matched the countertop, matched with paint or tile above. Recently the trend has been to leave out the piece of stone opting for decorative tiles all the way down to the countertop.
While countertops have been moving towards a lower profile look, the backsplash has become the new venue for bold colors or interesting patterns. Many homeowners these days are choosing to take their backsplash all the way up to the ceiling, rather than stopping at the wall cabinetry. This creates something akin to an accent wall, creating a powerful visual focal point.
Neutral Countertops Are In
Over the past few years, we've seen a rise in the popularity of more neutral colors for countertops. As backsplashes, appliances, and paint colors become many homeowners' choice for a pop of color, brightly colored countertops have become less popular.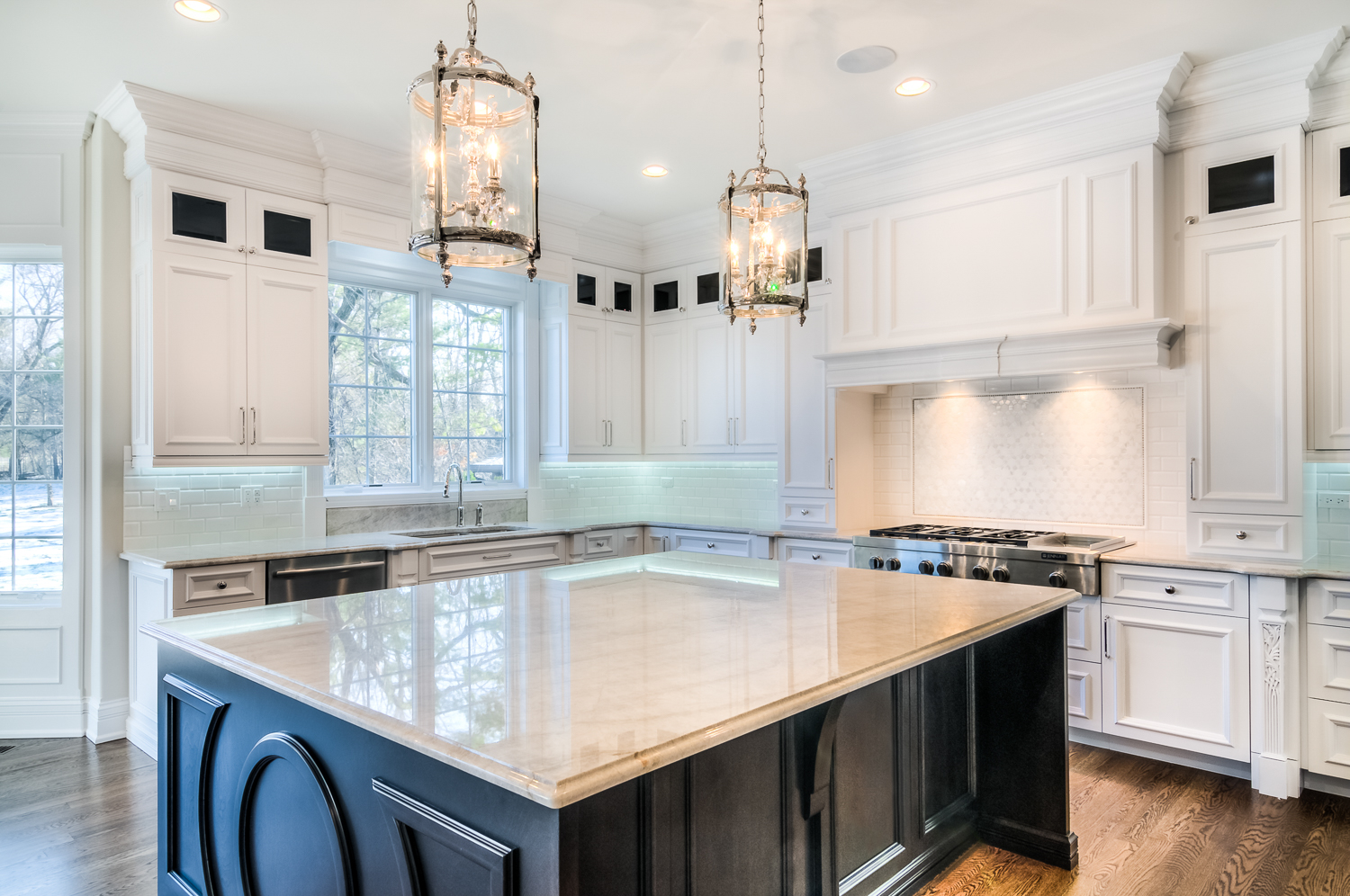 This is unsurprising given that sleeker, more minimal design has started to dominate kitchen décor. White, softer grey, and beige tones are much more popular than heavy black or bright blue countertops.
There is also a shift currently towards kitchens with natural lighting, with skylights and large glass doors becoming more and more popular in modern kitchens. When paired with a lighter tone of granite or quartz, it expands your kitchen's perceived space and creates an ultra-modern feel.
Quartz Stays On Top
Over the last several years, there has been a shift towards quartz countertops over traditional granite or marble countertops. For many years granite dominated the countertop market because it's strong, durable, and aesthetically pleasing. Unfortunately, it is also porous, making it easy to stain. On top of staining, the porous nature of granite can harbor bacteria.
The downsides of granite can be avoided by sealing your countertop with a non-porous sealant, but this requires resealing annually, as the sealant wears off with time and use.
Quartz is completely non-porous and requires no extra effort like resealing. It is also incredibly resistant to staining and one of the most hygienic options for a kitchen or bathroom countertop. Quartz is also fabricated to be incredibly strong, making it one of the more durable options for homeowners.
It's easy to see why quartz has become the stone of choice for many homeowners when it comes to choosing a new countertop. Since it's available in a wide variety of different color and pattern options, there's virtually no drawback to choosing quartz over granite.
Keep these kitchen trends in mind when looking for your new countertop, and always remember if you're having trouble deciding what would look best in your kitchen, talk to any member of the staff here at NEKA Granite Marble Quartz. We're happy to help you design your dream kitchen and find the perfect stone for you.