If you're working on renovating your home, chances are you have some plans for your bathrooms. Whether you're redesigning your master or guest bathroom, it's a perfect opportunity to create a relaxing retreat for your guests or yourself through the use of clean, minimal design. Most modern bathroom designs focus on eliminating clutter and using large swaths of color to create a soothing and inviting space.
One of the most striking features of modern bathroom design is the bold use of stone for countertops, flooring, or covering walls. Stone can add beautiful natural patterning, create bold straight lines or geometric shapes, and give surfaces a polished shine that will add an elegant shimmer to the room. The only question now is what kind of stone should you use?
Here at NEKA Granite Marble Quartz, we recommend using one of our varieties of engineered quartz for your bathroom remodel. Why use quartz? For starters, it's incredibly tough and can easily withstand daily use. Quartz is also completely nonporous, making it bacteria and stain resistant. Most other types of stone are porous, which allows any spilled substance to seep into the surface of the stone and cause a nasty spot that's nearly impossible to get out. Quartz also comes in the widest variety of colors, allowing you to pick subtle tones that will blend in effortlessly, or a bold statement color if that's more your style.
If you need another reason to use quartz, it is also one of the more eco-friendly stone choices. Quartz is one of the most common substances on earth, and many manufacturers of quartz, like CaesarStone and Cambria, are committed to using environmentally friendly manufacturing processes. CaesarStone offers a full line of quartz slabs that use up to 42% post-consumer recycled materials, while Cambria recycles 100% of the water it uses during manufacturing processes. If using eco-friendly and sustainable products is an important part of your renovation, quartz is a natural choice for your project.
Here are some of our favorite quartz options for a stylish modern bathroom remodel:
Tebas Black

Silestone's Tebas Black quartz is the perfect choice for a bold modern bathroom. Chrome and white porcelain go hand in hand with this inky black reflective quartz. Tebas Black is perfect for adding some much needed contrast to an all-white bathroom. Modern minimalist design often leans towards a monochromatic color palette, making Tebas Black an easy choice if you're looking to offset the porcelain of your sink, toilet, or bathtub.
Calacatta Gold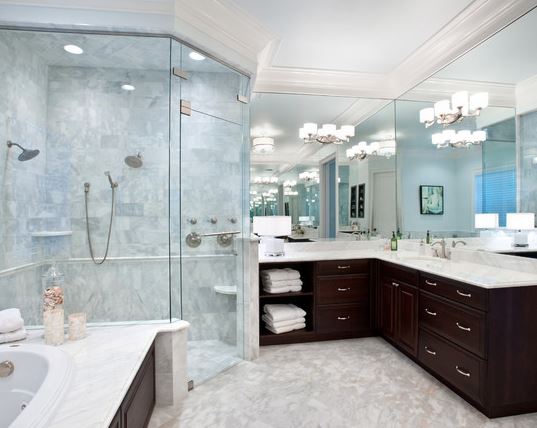 For bathrooms featuring cabinets made of dark wood, Silestone's Calacatta Gold is a perfect choice. This beautiful quartz features light patterning to set it apart from the white porcelain fixtures of most bathrooms. Calacatta Gold is absolutely luxurious when paired with dark wood and brushed steel fixtures. If you're going for a clean white design for your bathroom, think about using Calacatta Gold for your countertops, backsplash, or flooring.
Bamboo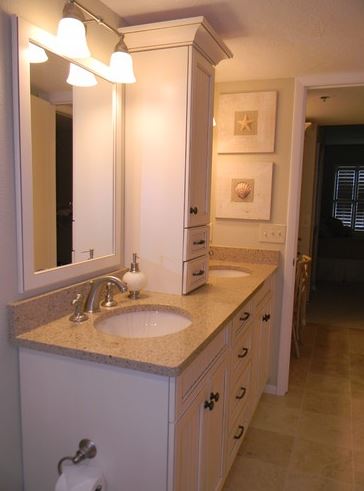 If you're not into the stark black and white bathrooms that are so common these days, you might look into an aesthetic that features more tan, beige, and brown tones. Bamboo quartz by Silestone is the perfect complement to an earthier aesthetic. The pebbly pattern of Bamboo quartz fits perfectly with natural color stone tiles and can help to break up wide swaths of flat color. Bamboo looks great with all types of cabinets, whether they are natural wood or painted. It also works with a variety of different hardware and fixtures.
These are just a few of the different varieties of quartz you can use for your bathroom renovation project. If you're still not sure exactly what kind of aesthetic you're looking for your bathroom, schedule an appointment to come talk to the friendly design specialists at NEKA Granite Marble Quartz. We'd be happy to take you through our showroom and help you choose the perfect quartz for your dream bathroom.